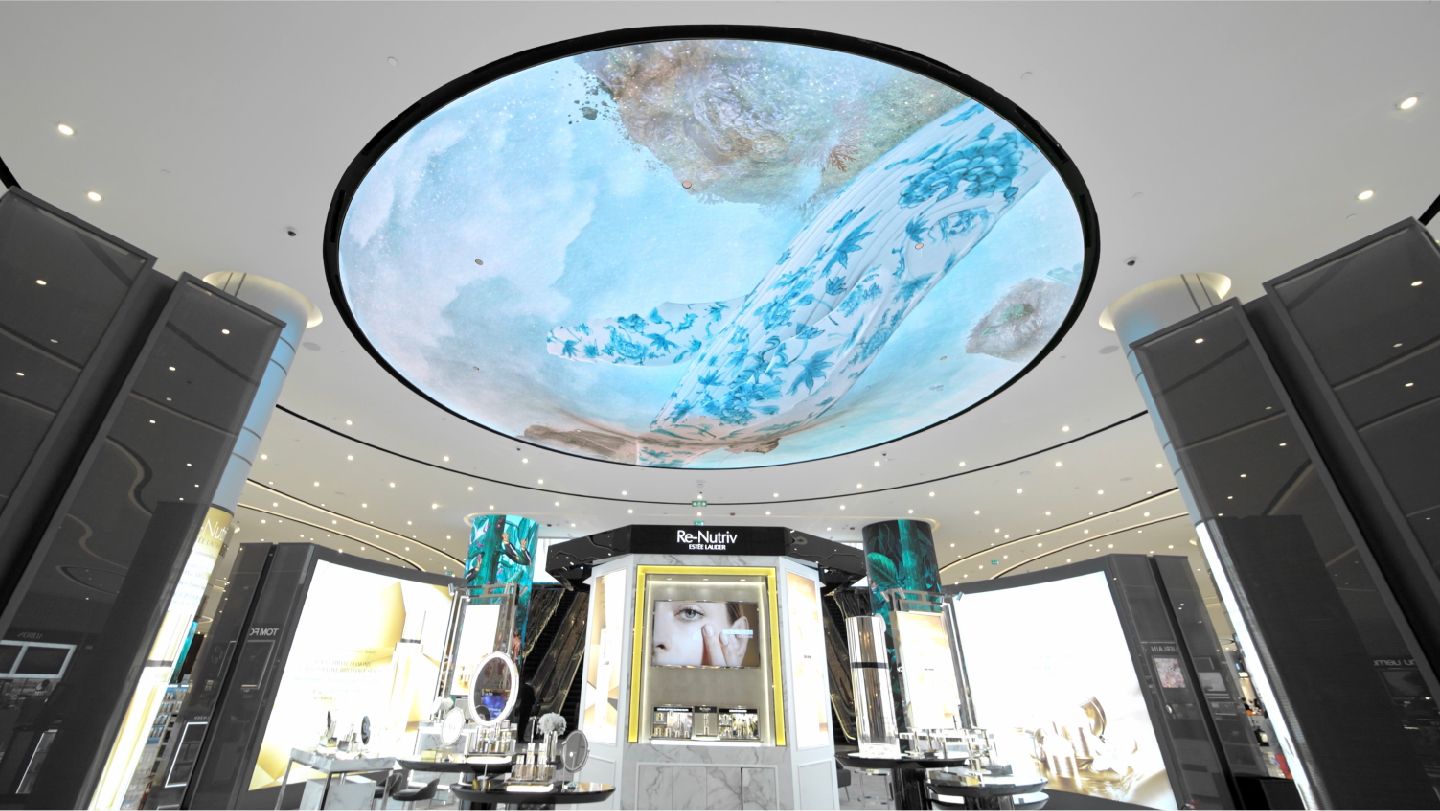 Design Bridge and Partners has partnered with China Duty Free International, the largest luxury goods operator in China to create a visual digital experience for its new flagship opening in Macau. 'The Surreal Island' is made up of large-scale digital displays set within the 7,500 square metres of retail space at the Grand Lisboa Palace, Macau. Nine LED screens bring to life the concept of the 'Surreal island' with a series of immersive animations, inspired by surrealist art.
Our Asia team was tasked with creating content for digital screens that include 20-meter ceiling displays and wall panels three times the height of the average person. The goal was to capture the imagination of affluent visitors of Macau, a city known for its larger-than-life attitude to experiences.
The 'Surreal Island' experience is brought to life through a series of dynamic, flexible and sensory visual animations that play on scale and pay homage to the juxtaposing technique of surrealist art. Through this whimsical narrative, China Duty Free brought extraordinary to the everyday.
Working in collaboration with Peru-based surrealist illustrator, Paolo Torres, Design Bridge and Partners created a poetic world inhabited by characters and scenes, designed through a whimsical combination of retail products and magical creatures. A Tiger tote stalks the rainforest and a Venus statue built of lipstick sits at the centre of a lake whilst porcelain whales dance in the sky. Each of these narratives was illustrated and brought to life in motion, designed to seamlessly exist alongside the store's daily life. The scenes are highly intricate, with day and night cycles that reveal new discoveries through every view.
"Macau is known for its larger-than-life attitude to experiences, having established its identity as an entertainment and travel city in the last 15 years. Our hope is that we are able to transport our guests to another world as soon as they step into our store and that this project marks the beginning of an otherwise expansive brand world for Surreal Island, where we can break out of the original retail context into other platforms and experiences."

— China Duty Free International Representative
"The project has been a truly collaborative effort that spanned across time-zones and continents, involving creatives both internally and externally from Hong Kong, Singapore, Bangkok, Italy, London and Peru. The China Duty Free team gave us an invaluable opportunity to flex our skills beyond branding into experience design - culminating in a fine blend of creative tech, illustration, art direction and cinematography. This immersive and dreamlike space speaks to the vibrancy of experiences and culture in Macau, setting up the flagship as a true destination for luxury shopping."

— Louisa Luk, Senior Designer, Asia