The Start is our entry programme – created to discover fresh talent, from different backgrounds, and bring them into our studios.
A little about us first
We are a global, strategic brand and design studio. Founded in 1986 in London, we've grown organically and in 2022 merged with global powerhouse in corporate & experience design, Superunion, to become Design Bridge and Partners.
Building on our shared ambition we offer the world's leading graduate program to enter the creative industries. From beers to teas, condoms to tampons, and cars to the stars – we work on a huge variety of businesses and brands. No day is ever quite the same.
Collaboration is a very big deal to us; we know it takes the individual skills and talents of every person in the team—with their unique perspectives—to deliver the kind of ambitious thinking and creativity that wows our clients and wins awards. We take the time to identify and nurture each person's particular strengths, striving to give everybody an opportunity, whether it's developing their creative talent, growing them into our future leaders or supporting their personal passions. This is why 'The Start' offers three 'pathways' – Client Leadership, Strategy and Creative.
So, where to begin?
We're looking for bold, hands-on creative types; curious cultural sponges who are full of ideas and passionate about design. And natural leaders and big thinkers too. We also couldn't succeed without the strengths and skills within our Client Leadership and Strategy teams; or the creative talents of our designers. All working behind the scenes to manage our clients and create world-class creative for their brands.
To help you determine which route is best suited for you – check out our flow chart below...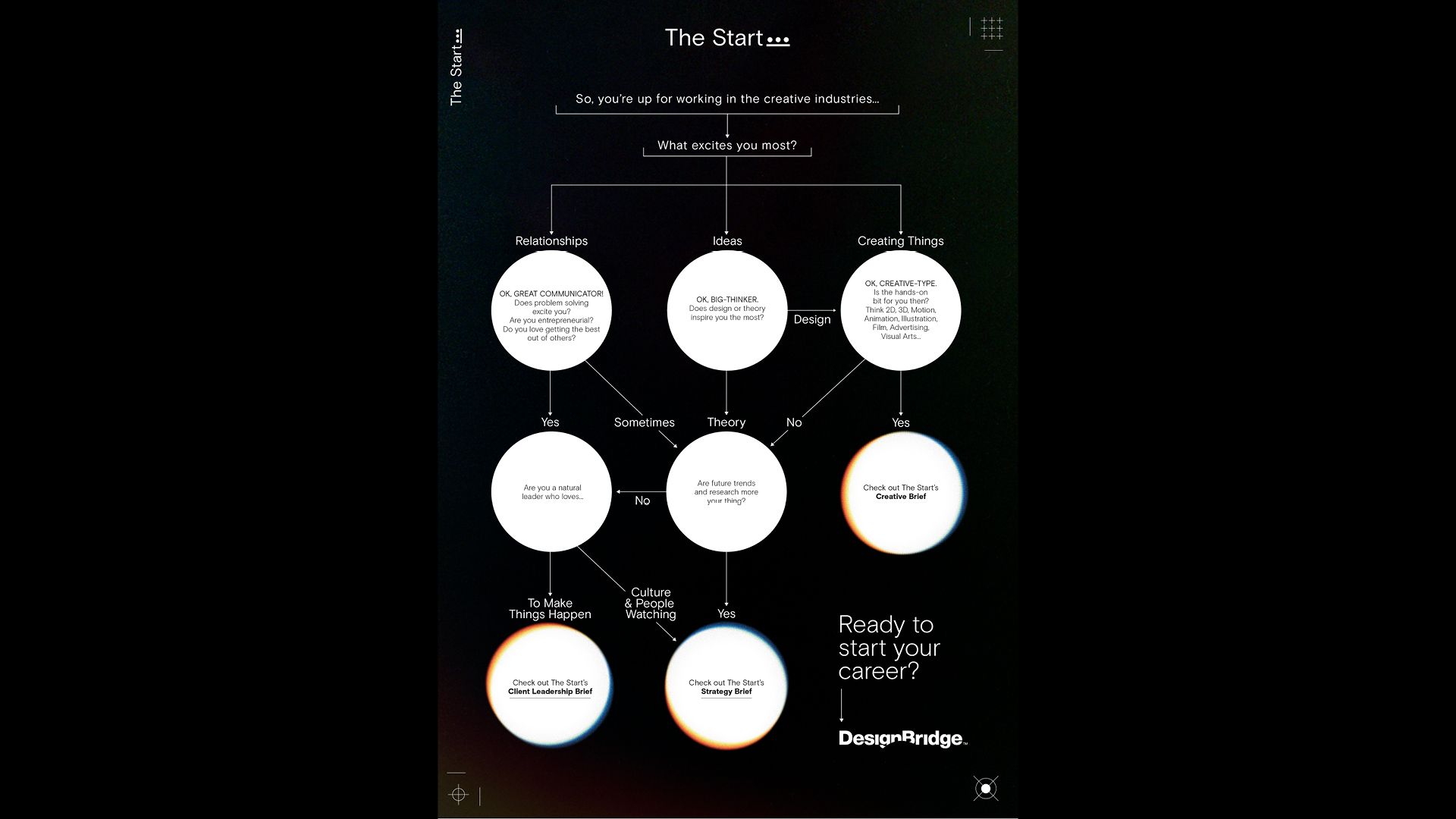 What are you waiting for?
You can find out all the details here, along with submission requirements for each pathway… once you're clear on the task, swipe down on our brief 'Brandomiser' to generate your bespoke 3-part brief!
At Design Bridge and Partners, we are an inclusive and diverse company. We insist on equal opportunities for people of colour, people of all physical abilities, of all gender identities, all sexual identities and all economic backgrounds. What we all share is what matters: a passion for strategic brand creativity and sharing our values of collaboration and commitment to excellence in all that we do.
If you have any questions about the brief or submission process, please get in touch with Holly Nicholas at holly.nicholas@designbridge.com